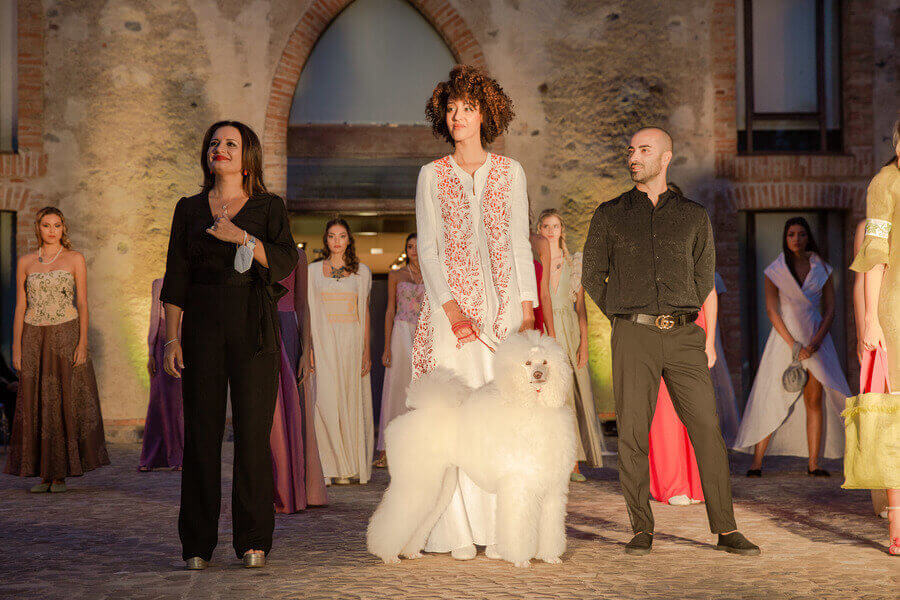 02 Ott

FASHION LUXURY: MAISON CELESTINO PRESENTED ON CATWALK "FREUD" S/S 2021 COLLECTION

Posted at 17:50h

in

Press

SUNDAY 27 SEPTEMBER 2020 AT 6.00 PM AT VACCHERIA FOTI
CORIGLIANO ROSSANO – ROSSANO AREA (CS)

 The setting sun and the wind between the olive trees along with the intense green of mother nature among her superb creations inextricably linked to their belonging. All this evokes the exciting review of the evening and cocktail gowns proposed by Maison Celestino with the Freud Collection for S/S 2021 during the fashion show held at the historic and elegant "Vaccheria Foti" in Rossano (Italy), the brand's homeland.

The collection immediately stood out for the delicacy of the colours palette that finds its true exaltation in nature, as if to give back to the noble fabrics created and worked by the Maison together with their antique origins and their declared aim of sophisticated and stylistic simplicity.

Thirty haute couture garments, in shades from white to lilac, from green to ecru, complete a picture of renewed chromatic elegance and style, in which once again it is the fabric and its laborious creation that are the undoubted protagonists.

A large number of fashion journalists, photographers and guests was attending the fashion show, respecting the strict compliance with the health restrictions in force, all of them felt the creative intensity of the Maison shown  behind every dress, almost exclusively made by traditional handcraft with scrupulous tailoring strictly Made in Italy. Numerous were the moments of absolute suggestion as the closing fashion show by the popular model testimonial of the brand, Aline Marques, accompanied by a wonderful white catwalk dog. The evening was conducted with elegance and competence by the presenter Veronica Maya, who wanted to wear a precious pure silk evening dress signed Maison Celestino. Vibrant was the words of the company representative Caterina Celestino, who was trying to hide her emotion, she wanted to welcome the audience and thank all the team that organized with her the event, while emphasizing their high professionalism.

The great success of the public and the excellent success of the event, under the artistic direction of Giovanni Scura, have undoubtedly rewarded the choice of Maison Celestino to conduct the fashion show in its own territorial context, combining the needs related to health restrictions with the 'opportunity to see their garments paraded in the land that represents the brand's place of centuries-old traditions and source of inspiration. The Press office directed by Maria Cristina Rigano, hairstyles created by Cat Italia by Pixel C3, makeup entrusted by the Academy of Antonio Riccardo and Nicola Acella.